Active Projects

Research overview. We work in the area of computational biology to accelerate scientific discovery by developing new scalable and rigorous algorithms. Forty years ago, it would have taken two years to determine just 24 characters of a DNA molecule. Fast forward to today, a single instrument produces more than a trillion characters per day. Genome sequencing, which used to be a centralised process, is now ubiquitous. For instance, the GenomeIndia project alone, plans to generate petabytes of sequencing data. Interpreting DNA molecules from the raw sequencing data is key to understanding genetic mutations associated with diseases such as cancer.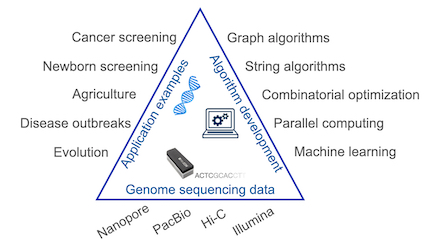 As a result, scalable algorithms and software are indispensable components of computational biology. Our research within this area builds on and extends approximate similarity search, string, geometric and graph algorithms, along with their parallelisation on modern multicore computing platforms. Through interdisciplinary collaborations, we have developed new algorithms and widely-used bioinformatics software to accelerate sequence analysis. Our active projects and their corresponding papers from our lab are listed below.


---
Collaborators
Multidisciplinary cooperation is critical in bioinformatics. We enjoy working with scientists bringing complementary expertise from both industry and academia.